Denver Stump Grinding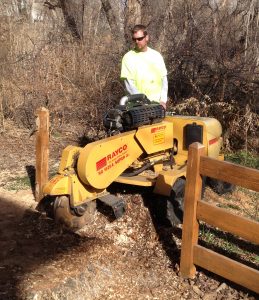 After a tree is removed, the stump remains and can become a hassle. Bailey Tree has over 30 years of experience in Denver stump removals and can solve that problem for you! Clearing a stump is very important if you're looking to regrow grass, plant another tree, or just remove a tripping hazard.
When a stump is removed the grinder continues underneath the ground level. All of this grinding produces mulch from the stump. Most of this mulch is poured back into the hole and it may also create a small mound of extra mulch which can be used however you like.
Once this process is complete you are free to move forward with landscaping, gardening, or whatever yard ideas you can dream up!
Call us for a free estimate to get that stump removed!