Tree Trimming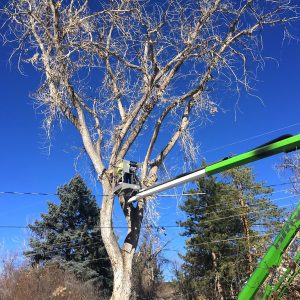 One of the best ways to keep your trees healthy and happy is to have routine tree trimming. By removing the dead wood and thinning the dense areas we help prevent future breaks and give the healthy branches room to grow. With out proper trimming trees can grow too thick and full of dead branches. This leaves them vulnerable breaking in the wind and heavy snows. And we all know how those Colorado Spring snows are!
Every type of tree has its own unique biology and growth patterns. Our highly trained team trim according to ISA standards for the health and well being of the tree so that it grows to it's fullest potential.
We also trim trees to remove current breaks as well as safety hazards. Branches that hang over roofs or dangle precariously can cause major damage and should be dealt with immediately! Our Arborists are friendly, trained, and ready to answer any questions regarding a tree's health or trimming needs.